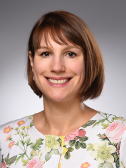 Dr. Michèle Finck, LL.M.
Senior Research Fellow
Intellectual Property and Competition Law

michele.finck(at)ip.mpg.de


Areas of Interest:
Data Protection Law, Law and Innovation, EU Law, Blockchain, Digital Platforms, Computational Learning, Data Economy
Academic Résumé
Michèle is a (tenured) Senior Research Fellow at the Max Planck Institute for Innovation and Competition. She previously worked at the London School of Economics and the University of Oxford. Michèle holds a doctorate in EU law from the University of Oxford, an LL.M. degree from the European University Institute and a dual degree in French and English Law (King's College London / Paris 1 Panthéon Sorbonne). She was a visiting researcher at New York University from 2013 — 2014.
Michèle's research agenda engages with various aspects of the data economy. She is an editor of the Cambridge Handbook on the Law and Regulation of the Sharing Economy (together with Nestor Davidson and John Infranca) and the author of 'Subnational Authorities in EU Law' (OUP 2017) as well as 'Blockchain Regulation and Governance' (Cambridge University Press 2019).
Academic Prizes and Honours
Luxembourg National Research Fund, Scholarship for doctoral research
Law Faculty of the University of Oxford, Scholarship for Fees
Memberships
Member of the Scientific Committee, Fondation IDEA (Luxembourg)
Member of the EU Blockchain Observatory and Forum
Publications
Edited Works
Smart Urban Mobility - Law, Regulation, and Policy (MPI Studies on Intellectual Property and Competition Law, 29), Springer, Berlin; Heidelberg 2020, VI + 340 pp. (together with Matthias Lamping et al.).
Cambridge Handbook of the Law of the Sharing Economy, Cambridge University Press, Cambridge 2018, XXIII + 497 pp. (together with Nestor Davidson, John Unfranca).
Books and Monographs
Blockchain Regulation and Governance in Europe, Cambridge University Press, Cambridge, MA 2019, 215 pp.
Subnational Authorities and EU Law (Oxford Studies in European Law), Oxford University Press, Oxford 2017, 240 pp.
Contributions to Collected Editions, Commentaries, Handbooks and Encyclopaedias
Smart Urban Mobility as a Regulatory Challenge, in: Michele Finck et al. (ed.), Smart Urban Mobility - Law, Regulation, and Policy (MPI Studies on Intellectual Property and Competition Law, 29), Springer, Berlin 2020, 1 - 17 (together with Matthias Lamping et al.). DOI
The 'smart city' has become shorthand for developments in technology that influence how cities are organised and how citizens coexist in them. 'Smart mobility', one of its most visible sub-domains, has been considerably affected by ecological, demographic and economic pressures. Emerging methods of transporta- tion and innovative business models can overcome old problems, but they also pose new societal, economic and legal challenges. This introduction aims to shed light on the law, regulation and policy of 'smart urban mobility' by critically examining its substantial transformation from a regulatory perspective. It outlines the notion of the 'smart city', highlights trends in 'smart' urban mobility, points to related legal challenges and explains the conception and chapters of this book.
Personalisation and EU Data Protection Law, in: Uta Kohl, James Davey, Jacob Eisler (eds.), Data-Driven Personalisation in Markets Politics and Law, Cambridge University Press, Cambridge 2020, forthcoming.
Dezentrale Technologien und Datenschutz, in: Alexander Dix (ed.), Jahrbuch Informationsfreiheit und Informationsrecht 2019, Lexxion, Berlin 2020, forthcoming.
Automated Decision-Making and Transparency in Administrative Law, in: Peter Cane (ed.), The Oxford Handbook on Comparative Administrative Law 2020, forthcoming.
Information Management, in: Peter Cane, Eric Ip, Peter Lindseth (eds.), Oxford Handbook of Comparative Administrative Law, Oxford University Press, Oxford 2020, forthcoming.
Foreword, in: Gregor Dorfleitner, Lars Hornuf (eds.), FinTech and Data Privacy in Germany, Springer, Cham 2019, V - VI.
Smart Contracts und Art. 22 DSGVO (Automatisierte Entscheidungen im Einzelfall), in: Tom Braegelmann, Markus Kaulartz (eds.), Rechtshandbuch Smart Contracts, C.H. Beck, München 2019, 195 - 210.
Blockchains and the Right to be Forgotten, in: Nikita Aggarwal et al. (ed.), Autonomous Systems and the Law, C.H. Beck; Nomos, München; Baden-Baden 2019, 87 - 90.
Vorwort, in: Lars Hornuf, Gregor Dorfleitner (eds.), Fintech und Datenschutz - Eine empirische Untersuchung mit Empfehlungen für Politik und Praxis, Springer, Berlin 2019, V - VI.
Technische Grundlagen von Smart Contracts, in: Martin Fries, Boris Paal (eds.), Smart Contracts, Mohr Siebeck, Tübingen 2018, 1 - 12.
The Sharing Economy and the EU, in: Nestor M. Davidson, Michele Finck, John J. Infranca (eds.), Cambridge Handbook of the Law of the Sharing Economy, Cambridge University Press, Cambridge 2018, 261 - 273. DOI
The Principle of Loyalty in Federations, in: Rüdiger Wolfrum, Frauke Lachenmann, Rainer Grote (eds.), Max Planck Encyclopaedia of Comparative Constitutional Law (MPECCoL), Oxford Constitutional Law, Oxford 2017.
The Impact of EU Law in Luxembourg: Does Size Matter?, in: Caroline Morris, Petra Butler (eds.), Small States in a Legal World (The World of Small States, 1), Springer, Cham 2017, 65 - 85. DOI
This chapter engages with Luxembourg's nature as a small state, and the impact its size may have on its relation with the European Union (and in particular its legal order), of which it is a founding Member State. When it comes to size, Luxembourg's relationship to the European Union is ambiguous. Territorially and demographically speaking, Luxembourg is, with its 2.586 km2 and just over half a million inhabitants, a lightweight, no doubt. Historically and politically speaking, Luxembourg however punches above its geographical weight. It is not only a founding Member State of the EU but has also continuously acted and been perceived as a loyal partner of the European integration project, a stable economy embedded in the internal market and a significant diplomatic player. The European Commission and the institutions that preceded it have had eighteen presidents over time, three of which were Luxembourg nationals: Gaston Thorn was the President of the European Commission from 1981–1985, Jacques Santer from 1995–1999 and Jean-Claude Juncker is the Commission's current head. Luxembourg, and especially its capital, Luxembourg City, host divisions of the European Parliament and the European Commission as well as the Court of Justice of the European Union ('CJEU' or 'the Court'). In April, June and October of each year, the meetings of the Council are held in Luxembourg.
Journal Articles
Introduction to the Special Issue: 20 Challenges for the EU in 2020, German Law Journal - open access to comparative, european and international law 2020, forthcoming (together with Florian de Witte).
Afterword on 'Spatial Statism', International Journal of Constitutional Law 18 (2020), forthcoming.
Data subjects as data controllers: a Fashion(able) concept?, Internet Policy Review 2019 13.06.2019 (together with Lilian Edwards et al.).
Smart Contracts as Automated Decision-Making under Article 22 GDPR, International Data Privacy Law 9 (2019), 1 - 17.
Copyright Law on Blockchains: Between New Forms of Rights Administration and Digital Rights Management 2.0, IIC 50, 1 (2019), 77 - 108 (together with Valentina Moscon). DOI
This article examines the potential and limitations of blockchain technology and blockchain-based smart contracts in relation to copyright. Copyright has long been enforced through technological means, specifically Digital Rights Management. With the emergence of blockchains, many are now predicting a new era regarding the administration and enforcement of copyright through computer code. The article introduces the technology and related potential and limitations while stressing its capacity to act as a form of normative ordering that can express public or private objectives.
Distinguishing internet platforms from transport services: Elite Taxi v. Uber Spain, Common Market Law Review 55, 5 (2018), 1619 - 1640.
Blockchains: Regulating the Unknown, German Law Journal 19, 4 (2018), 665 - 691.
This Article, which takes into account developments up until summer 2017, evaluates the early days of regulatory engagement with blockchain technology. My analysis unfolds in three parts. First, I provide a cursory overview of the technology itself to highlight considerable uncertainties concerning its future. Regulators asked to engage with distributed ledgers are thus compelled to regulate the unknown. Second, I will introduce a typology of regulatory strategies adopted to date and highlight their respective advantages and shortcomings. Third, I will outline a number of guiding principles regulators should follow in respect of blockchain technology. I will make the argument that despite the technology's uncertain future, early regulatory engagement is warranted as a young technology is a malleable technology. As technology develops, law has to adapt. As a consequence, I put forward a number of regulatory techniques, including a process of polycentric co-regulation that relies on the regulatory potential of (blockchain) software and the adoption of a so-called "2 8th regime" at the EU level which may help navigate the uncertainties of blockchain development and regulation.
Fragmentation as an agent of integration: Subnational authorities in EU law, International Journal of Constitutional Law 15, 4 (2018), 1119 - 1134. DOI
This article draws on the theory of "federalism as the new nationalism" to illustrate that regulatory fragmentation is not necessarily synonymous with disintegration. Regulatory fragmentation can rather be conceptualized as a tool assisting European integration. Looking at the status of subnational authorities (SNAs) in EU law, the article identifies decisions of the Court of Justice of the European Union (CJEU) in free movement law that illustrate that SNAs can be conceived as valuable insiders, rather than threatening outsiders, of European law. This account, which indicates that SNAs' contribution to European legal integration is in many ways analogous to that of the Member States, stands in contrast with the European Treaties that recognize only two levels of public authority as SNAs are seen as a predominantly domestic phenomenon of little relevance for the supranational project. My analysis underscores that SNAs and their norms do not exist in a sphere separate from that of EU law. It highlights diverse interactions between the subnational and the supranational and suggests that the influence of levels of public authority can best be captured by a paradigm of interconnection rather than separation. Indeed, contrary to commonplace assumptions, it is not actors' formal status, anchored in notions such as independence, sovereignty, and autonomous competences but the manifold functional interactions between them that shape the polycentric Union. Through this functional lens we confirm what federalism scholars have observed in the USA, namely, that "decentralization can serve rather than undermine the project of integration."
Digital co-regulation: designing a supranational legal framework for the platform economy, European Law Review 43, 1 (2018), 47 - 68.
The Role of Human Dignity in Gay Rights Adjudication, International Journal of Constitutional Law 14, 1 (2016), 26 - 53. DOI
Sharing and the City, Vanderbilt Journal of Transnational Law 49, 5 (2016), 1299 - 1369 (together with Sofia Ranchordas).
The sharing of public infrastructure, the exchange of small services, and the traditional "cup of sugar borrowed from the neighbor" are practices intrinsic to most urban agglomerations. In the digital age, these sharing initiatives are facilitated by online platforms such as Feastly, Peerby, and HomeExchange. These platforms allow city residents to share the idle capacity of some of their assets (e.g., clothing, tools, or a spare bedroom) with other residents living in close proximity to them, or with tourists looking for accommodation. While these practices can be justified by efficiency and sustainability concerns, some of them appear to be in conflict with longstanding regulations on localtransportation, food safety, zoning, taxation, and short-term accommodation. This Article explores urban peer-to-peer sharing practices from a comparative perspective and discusses how a number of large cities in Europe, the United States, and Asia are currently addressing the regulatory challenges inherent to sharing platforms. We argue that cities should rethink their regulations in light of this new form of urban sharing. The legal literature has thus far conveyed an incomplete image of the sharing economy by focusing on controversial platforms such as Uber and their ongoing lawsuits. In this Article, we reestablish the historical, economic, and legal meaning of genuine "urban sharing." First, this Article distinguishes between genuinely collaborative initiatives that promote the sharing of underutilized assets (e.g., spare guestrooms) and non-collaborative platforms that are not driven by sustainable consumption (e.g., Uber). Second, it provides an overview of the economic and geographic sharing potential of cities and discusses how outdated regulations might restrict it. Third, drawing on the experience of the so-called sharing cities (e.g., Seoul), it suggests a new legal framework for the regulation of genuine sharing practices. In this context, we argue that cities should, in some cases, experiment with the regulation of sustainable sharing initiatives in order to gather more information as to their benefits or risks, and, in other cases, engage in collaborative decision-making by negotiating the content of new legal provisions and policies with digital platforms.
Towards an ever closer union between residents and citizens? On the possible extension of voting rights to foreign residents in Luxembourg, European Constitutional Law Review 11, 1 (2015), 78 - 98.
Surrogacy Leave as a Matter of EU Law: CD and Z - Judgments of the Court of Justice (Grand Chamber) in Case C-167/12, C.D. v. S.T., EU:C:2014:169 and Case C-363/12, Z. v. A Government Department and The Board of management of a community school, EU:C:2014:159., Common Market Law Review 52 (2015), 281 - 298 (together with Betül Kas).
Challenging the Subnational Dimension of the Principle of Subsidiarity, European Journal of Legal Studies 8, 1 (2015), 5 - 17.
(upon invitation of the editorial board)
This article, which forms part of the New Voices' series and is hence drafted as an essay rather than a proper academic article, examines the principle of subsidiarity in its application to local and regional authorities as they exist within the various Member States. While subnational authorities ('SNAs) have been studied extensively within the respective domestic contexts, their relation with other levels ofpublic authority, such as the European Union, is less well-defined. Subsidiarity is often cast as the principle capable of recognising the existence ofsubnational autonomies by the EU, and guiding their interaction with the latter. This is so in particular after Article 5(3) TEU has been amended on the occasion of the Lisbon Treaty revision to include an express reference to local and regional authorities. This short essay challenges this perception of subsidiarity, putting forward that the core legal provisions that deal with subsidiarity in EU law do not allocate any meaningful role for SNAs. This is so, it is argued, because subsidiarity remains anchored in an understanding of the European Union and its legal order as composed of and shaped by the EU and the Member States to the exclusion of any other actor.
The Role of Localism in Constitutional Change: A Case Study, The Journal of Law & Politics 30, 1 (2014), 53 - 95.
This Article investigates the role local governments have played in bringing about constitutional change in the area of gay rights. Localities are conventionally framed either as administrative agents that implement state and federal norms or as creators of local regulation, the effect of which is strictly limited to the local territory. Conventional images of constitutional law accordingly assume that the competences of local governments are too limited to influence constitutional change. I take issue with this assumption and illustrate that localities can be generators of important legal norms that transcend the local territory. By acting through legal, rather than purely political means, the performative nature of local regulation influences state and federal law in a constitutional order characterized by polycentricity and porosity. As such, municipal policies have been one of many driving forces behind the significant changes in gay rights at the state and federal levels over the past years.
Above and Below the Surface: The Status of Sub-National Authorities in EU Climate Change Regulation, Journal of Environmental Law 26, 3 (2014), 443 - 472. DOI
European Union (EU) legal studies generally picture the Member States' local and regional authorities as implementers of national and supranational norms rather than independent regulators. Yet, sub-national authorities (SNAs) have become active regulators in the context of climate change mitigation and adaptation, a role not foreseen by EU primary law, which this article understands to constitute the surface of EU law. This article examines regulatory activity of SNAs from the perspective of EU law. It illustrates that sub-national, national, supranational and international actors are engaged in a process of mutual learning and experimentation and that, below its surface, EU law recognises that SNAs are not mere implementers of norms but also independent regulators.
Research Papers
Technical Aspects of Artificial Intelligence: An Understanding from an Intellectual Property Law Perspective (Max Planck Institute for Innovation & Competition Research Paper, No. 19-13), 2019, 15 pp. (together with Reto M. Hilty et al.).
The present Q&A paper aims at providing an overview of artificial intelligence with a special focus on machine learning as a currently predominant subfield thereof. Machine learning-based applications have been discussed intensely in legal scholarship, including in the field of intellectual property law, while many technical aspects remain ambiguous and often cause confusion. This text was drafted by the Research Group on the Regulation of the Digital Economy of the Max Planck Institute for Innovation and Competition in the pursuit of understanding the fundamental characteristics of artificial intelligence, and machine learning in particular, that could potentially have an impact on intellectual property law. As a background paper, it provides the technological basis for the Group's ongoing research relating thereto. The current version summarises insights gained from background literature research, interviews with practitioners and a workshop conducted in June 2019 in which experts in the field of artificial intelligence participated.
They Who Must Not Be Identified - Distinguishing Personal from Non-Personal Data Under the GDPR (Max Planck Institute for Innovation & Competition Research Paper, No. 19-14), 2019, 48 pp. (together with Frank Pallas).
In this article, we examine the concept of non-personal data from a law and computer science perspective. The delineation between personal data and non-personal data is of paramount importance to determine the GDPR's scope of application. This exercise is, however, fraught with difficulty, also when it comes to de-personalised data – that is to say data that once was personal data but has been manipulated with the goal of turning it into anonymous data. This article charts that the legal definition of anonymous data is subject to uncertainty. Indeed, the definitions adopted in the GDPR, by the Article 29 Working Party and by national supervisory authorities diverge significantly. Whereas the GDPR admits that there can be a remaining risk of identification even in relation to anonymous data, others have insisted that no such risk is acceptable. A review of the technical underpinnings of anonymisation that is subsequently applied to two concrete case studies involving personal data used on blockchains, we conclude that there always remains a residual risk when anonymisation is used. The concluding section links this conclusion more generally to the notion of risk in the GDPR.
Automated Decision-Making and Administrative Law (Max Planck Institute for Innovation & Competition Research Paper, No. 19-10), 2019, 25 pp.
Over the past few years, there has been much discussion regarding the potential of automated-decision making ('ADM') systems powered by mechanisms of computational intelligence such as machine learning or deep learning (commonly referred to as 'Artificial Intelligence' or 'AI'). To date, such forms of (big) data analysis are most prominently relied on by the private sector, such as the search algorithms used by online search engines or the recommendation algorithms used by e-commerce and entertainment services platforms. These forms of data analysis in essence offer three main benefits, namely the speed and efficiency of decision-making as well as an ability to detect correlations that may be undetectable to the human brain. The efficiency, speed and correlations offered by these forms of data analytics are also appealing in the public sector. Indeed, various products of computational learning are already being used in administrative processes and will likely become much more prominent in future years. Whereas these techniques offer important potential benefits, they have also been the cause of concern. Indeed, the use of ADM in administrative settings raises numerous important legal and ethical challenges. This paper introduces these new elements in the administrative toolbox and to survey related consequences, in particular possible implications for the principle of transparency.
Smart Contracts as a Form of Solely Automated Processing Under the GDPR (Max Planck Institute for Innovation & Competition Research Paper, No. 19-01), 2019, 29 pp. DOI
This article examines the interaction between smart contracts and Article 22 GDPR. There is currently much debate regarding the potential of smart contracts. In spite of their name, this form of computer code is however neither necessarily smart nor a contract. I argue that they are, however, a form of solely automated data processing under Article 22(1) GDPR and subsequently examine the interaction between smart contracts and the European data protection framework to highlight uncertainties regarding the interpretation of the legal regime applying to solely automated forms of data processing under the GDPR.
Blockchains and Data Protection in the European Union (Max Planck Institute for Innovation & Competition Research Paper, No. 18-01), 2017, 31 pp.
This paper examines data protection on blockchains and other forms of distributed ledger technology ('DLT'). Transactional data stored on a blockchain, whether in plain text, encrypted form or after having undergone a hashing process, constitutes personal data for the purposes of the GDPR. Public keys equally qualify as personal data as a matter of EU data protection law. We examine the consequences flowing from that state of affairs and suggest that in interpreting the GDPR with respect to blockchains, fundamental rights protection and the promotion of innovation, two normative objectives of the European legal order, must be reconciled. This is even more so given that, where designed appropriately, distributed ledgers have the potential to further the GDPR's objective of data sovereignty.
Lectures
Selection of lectures in recent years:
2019/06
Intellectual Forum
Location: University of Cambridge, UK
---
2019/06
'Technology and Human Rights'
Presentation delivered to the PhD Program in Human Rights
Location: University of Palermo, Italy
---
2019/06
Workshop on Decentralised Systems
Location: Bocconi University, Milan, Italy
---
2019/06
Research Seminar
Location: Law Faculty, University of Warsaw, Poland
---
2019/06
'Courts and Internet Governance' Workshop
Location: University of Maastricht, the Netherlands
---
2019/05
Inaugural conference of the IACL research group on the Algorithmic State, Society and Market
Location: European University Institute, Florence, Italy
---
2019/05
Co-organiser of a panel on 'The Changing Notion of the Data Controller in EU Data Protection Law'
2019 TILTing conference
Location: University of Tilburg, the Netherlands
---
2019/04
High-level seminar on the data economy
co-organized by the Jacques Delors Institute and the Sitra Innovation Fund
Location: Helsinki, Finland
---
2019/04
Data Protection in Smart Grids
Berlin Energy Transition Dialogue
Location: German Federal Foreign Office, Berlin, Germany
---
2019/03
Blockchain Roundtable
Location: German Parliament (Bundestag), Berlin, Germany
---
2019/03
Expert evidence on online platforms
Location: Financial Stability Board Financial Innovation Network (remote)
---
2019/03
Academy of European Law
Annual Conference on Data Protection Law 2019
Location: Brussels, Belgium
---
2019/03
Balancing Data Protection and Retention Obligations in Financial Law
Location: European Law Institute, University of Zurich, Zurich, Switzerland
---
2019/03
Academy of European Law
Course on Smart Contracts
Location: Trier, Germany
---
2019/03
POLITICO Artificial Intelligence Summit
Location: Brussels, Belgium
---
2019/03
Lunchtime Seminar
Location: University of Durham, UK
---
2019/02
Seminar on Data Protection
Location: University of Luxembourg and the Luxembourg Data Protection Authority, Luxembourg
---
2019/02
Workshop on Data Protection in Humanitarian Action
Location: International Committee of the Red Cross, Geneva, Italy
---
2019/01
Controllers Everywhere, Data Controllers Nowhere? Computers, Privacy and Data Protection ('CPDP')
Location: Brussels, Belgium
---
2018/12
Introduction to the High-Level Roundtable on Blockchain with Commissioner Gabriel
Location: Brussels, Belgium
---
2018/12
Regulatory Principles for Decentralized Networks
Location: European Commission & EU Blockchain Observatory and Forum, Paris, France
---
2018/11
Blockchain, Public Trust, Law and Governance
Location: University of Groningen, the Netherlands
---
2018/11
Ringvorlesung "Datenschutz"
Location: University of Munster, Germany
---
2018/10
Regulating Technology
Location: Université Paris I Sorbonne, Paris, France
---
2018/10
Legislative Drafting and New Technologies
Location: Italian Parliament, Rome, Italy
---
2018/08
The Data Economy and EU Law
Location: Seoul National University, South Corea
---
2018/06
Grundlagen und Technologie von Smart Contracts
Location: Albert Ludwigs University Freiburg, Germany
---
2018/06
Blockchains and EU Law
Location: European Law Institute Meeting, Ferrara, Italy
---
2018/06
Distributed Ledger Technology and Data Protection
Location: European Commission
---
2018/04
The Regulation of ICOs: Between Member State and EU Competence
Location: Federal Ministry of Finance, Berlin, Germany
---
2018/04
The Right to be Forgotten
Location: University of Oxford, UK
---
2018/03
Regulating Decentralized Blockchain Ecosystems
Location: Wharton Business School, Philadelphia, USA
---
2018/03
Regulating Decentralized Blockchain Ecosystems
Location: London School of Economics, UK
---
2018/02
Can Blockchains be Regulated?
Location: Oxford Internet Institute, UK
---
2018/02
Can Blockchains be Regulated?
Location: Durham University, UK
---
2017/09
Regulating the Sharing Economy
Location: Luxembourg
---
2017/07
ICON-S Konferenz
Location: Copenhagen, Danmark
---
2017/04
International Conference on the Regulation of the Sharing Economy
Location: Boston, USA
---
2017/03
Reg-Gov Workshop
Location: Tilburg University, the Netherlands
---
2017/02
Ent-Staatlichung der Kommune in der Globalisierung
Location: University of Konstanz, Germany
---
2017/02
BEUcitizen Workshop
Location: University of Oxford, UK
---
2016/07
ECPR Standing Group on Regulatory Governance
Location: Tilburg University, the Netherlands
---
2016/06
Conference of the International Society of Public Law
Location: Humboldt University Berlin, Germany
---
2016/02
Research Seminar in EU Law
Location: Faculty of Law, University of Cambridge, UK
---
2015/07
Annual Conference of the International Society of Public Law
Location: NYU, New York, USA
---
2015/07
Fordham Urban Law Conference
Location: Paris, France
---
2015/09
Centre for Small States
Location: Queen Mary University of London, UK
---
2015/10
Symposium 'Federalism(s) and Fundamental Rights – Europe and the United States Compared'
Location: Yale Law School, New Haven, USA
---
2015/11
Research Seminar
Location: Faculty of Law, London School of Economics, UK
---
2014/06
EU law, Polycentricity, and Porosity: In Search for a Tool Able to Guide the Interaction of Multiple Levels of Public Authority
International Society of Public Law Inaugural Conference (EUI)
Location: Florence, Italy
---
2014/06
The Role of Human Dignity in Gay Rights Adjudication and Legislation. A Comparative Perspective
Location: International Congress of Constitutional Law, Oslo, Norway
---
2014/05
Young Scholars Conference
Location: University of Toronto, Canada
Courses
Since 2014
Lecturer in EU law
Location: Keble College, Universität Oxford