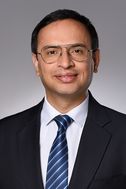 Dr. Vikas Kathuria
Affiliated Research Fellow
Intellectual Property and Competition Law

vikas.kathuria(at)ip.mpg.de


Areas of Interest:
Competition Law, Economic Regulation, Competition Law and Intellectual Property, Law and Innovation, Law and Technology
Academic Résumé
2021
Affiliated Research Fellow in the department Intellectual Property and Competition Law at Max Planck Institute for Innovation and Competition
2018 - 2020
Senior Research Fellow in the department Intellectual Property and Competition Law at Max Planck Institute for Innovation and Competition
2017 - 2018
Assistent Professor at the Bennett University Law School, India
2016 - 2017
Research Assistant (Level-III) at the Competition Commission of India
2016
Doctorate of Philosophy (Ph.D.) at the Tilburg Law and Economics Center (TILEC), the Netherlands
2012 - 2015
Assistant Professor at the Jindal Global Law School, India
2012
Master of Laws (LL.M.) at the London School of Economics and Political Science (LSE), United Kingdom
2009
Bachelor of Laws (LL.B.) at the Campus Lew Centre, University of Dehli, India
2006
Bachelor of Arts (B.A.) at the University of Dehli, India
Publications
Journal Articles
Vertical Restraints under Indian Competition Law: Whither Law and Economics, Journal of Antitrust Enforcement 2021, 01.04.2021. DOI
The correct welfare assessment of vertical agreements in competition law is a difficult craft. The more mature jurisdictions such as the EU and the US have struggled to develop the optimal framework. This article scrutinizes vertical agreements cases of the Competition Commission of India (CCI) that is now 11 years old. The objective is to assist the CCI in strengthening its legal and economic framework vis-à-vis vertical agreements in its formative stage. The scrutiny of some leading cases revealed three types of infirmities in CCI's cases. First, there are some legal ambiguities in the interpretation of the legislation. Secondly, the economic analysis is largely incoherent and truncated. Thirdly, there is a visible overreliance on the EU jurisprudence that does not conform to the legislative scheme of the Indian Competition Act, 2002. The article draws out some lessons towards the end.
Exclusionary Conduct in Data-Driven Markets: Limitations of Data Sharing Remedy, Journal of Antitrust Enforcement 8, 3 (2020), 511 - 534 (together with Jure Globocnik). DOI
The natural consequence of finding an infringement of Article 102 TFEU is to offset the harm to consumer welfare by restoring competition through effective remedies. As big data constitutes the most vital resource in data-driven markets, a dominant undertaking can exclude its rivals from accessing user data and thus deprive them of scale in markets that are characterised by network effects. Indeed, the European Commission found Google guilty of excluding its rivals in the Android licensing case by adopting this strategy. It is, however, unclear as to which remedy can most efficiently restore competition in such cases. This paper analyses the viability of mandatory data sharing as a remedy to restore competition in the affected market. The paper approaches this research question from both theoretical and practical standpoints. First, it analyses the viability of mandatory data sharing remedy from legal, economic and, technological perspective, followed by an assessment of such a remedy within the framework of the GDPR. Based on this comprehensive investigation, it concludes that mandatory data sharing is not the optimal solution to remedy loss to consumer welfare. In view of this, reliance can be placed on other behavioural and structural remedies.
Platform Competition and Market Definition in the US Amex Case: Lessons for Economics and Law, European Competition Journal 15, 2/3 (2019), 254 - 280. DOI
The rise of multi-sided platforms in the marketplace has spawned a vast amount of research to understand their implications for competition and welfare. This paper presents the scrutiny of one such academic work that classifies multi-sided platforms into "transaction" and "non-transaction" platforms for the purpose of relevant market definition. It has been posited that in the case of "transaction" platforms, there is one all-encompassing relevant market comprising of all sides of a platform. And such a "transaction" platform can compete only with another "transaction" platform. The U.S. Supreme Court in its Amex decision relied upon this classification and elevated the same into law. This paper identifies flaws in this concept by demonstrating that the relevant academic work defines "transaction" too narrowly. The paper takes the swift adoption of the "transaction" platform approach by the Supreme Court as an opportunity to also provide lessons for economics and law.
Greed for data and exclusionary conduct in data-driven markets, Computer Law & Security Review 35, 1 (2019), 89 - 102. DOI
The Conflict between Regulation and Competition in the Indian Telecom Sector, Economic and Political Weekly 22.09.2018, 38 - 44.
Validity of Non-Disclosure Agreements in SEP Licensing, EIPR 40, 6 (2018), 358 - 367 (together with Jessica C. Lai).
Restrictive Conditions in Patent Law and Competition Law Interface, Journal of World Intellectual Property 21, 3/4 (2018), 256 - 268 (together with Jessica C. Lai). DOI
This article examines a little discussed section of the New Zealand Patents Act 1953 (s 66), which dealt with "restrictive conditions." It discusses the repeal of the section and the resultant situation in New Zealand, particularly vis‐à‐vis the competition law regime and its exemptions for certain behavior regarding intellectual property. A comparison of the patent‐law and competition‐law interface is made with respect to the UK, Australia, and India. The article finds that New Zealand's statutory regime potentially offer the most patent friendly environment when it comes to a patentee's ability to extend his/her reach beyond the scope of patent rights. At the same time, policy‐ and law‐makers have largely ignored the relationship between patent law and competition law, which may prove to be counterproductive against New Zealand's desire to be innovative and—connected to this—unfavorable for New Zealand consumers.
User Review Portability: Why and How?, Computer Law & Security Review 34, 6 (2018), 1291 - 1299 (together with Jessica C. Lai). DOI
User reviews of products on the e-commerce platforms are a critical determinant of inter-platform competition, as a large number of consumers base their purchasing choices on the related reviews written by other users. The network effects between the number of reviews and new users give a sustainable competitive advantage to incumbent platforms. While business literature has recognised the commercial value of the user reviews, legal scholarship has paid little attention to levelling the playing field between incumbents and new e-commerce platforms by exploring the portability of user reviews. This paper bridges this gap. We explore the possibility of porting user reviews through two legal mechanisms—first, traditional Intellectual Property law; second, the new Right to Data Portability (RtDP) as enshrined in the GDPR. After recognising the limitations of these mechanisms in enabling the portability of reviews, we suggest that pure data aggregators, such as Personal Information Management Services (PIMS), are best placed to make user reviews available to multiple platforms.
Access and Investment in the ICT Sector for Developing Countries, Law and Development Review 9, 1 (2016), 1 - 27. DOI
The Information and Communication Technology (ICT) sector is characterized by rapid changes in technology. The innovation in the ICT has shown its benefits in not only facilitating better communications, but also in fostering development. Therefore, ensuring proper incentives to the private sector for innovation or diffusion of technology is crucial. However, incentivizing the private players may be challenging in developing countries, where majority of the population requires cheap access. Thus, this paper analyses the extent to which developing countries can ensure incentivizing the providers of technology, without failing on their commitment to provide cheap access to the poor. The paper analyses Local Loop Unbundling (LLU) and Universal Service Obligation (USO) and suggests ways to ensure adequate investment without jeopardizing access. The framework chosen in this paper is to see the changing treatment of LLU and USO in mature jurisdictions, and then analyze the viability of these policies in the socio-economic settings of developing countries. The framework also takes note of changes in the ICT technology.
Pharmaceutical Mergers and their Effect on Access and Efficiency: A Case of Emerging Markets, World Competition 39, 3 (2016), 451 - 478.
A Conceptual Framework to Identify Dynamic Efficiency, European Competition Journal 11, 2-3 (2015), 319 - 339. DOI
Even though dynamic efficiency has a great potential to bring social welfare, it was not until recently that dynamic efficiency started impressing competition authorities in deciding the net effect of mergers, agreements and abuse of dominance practices on competition. The problem, however, is that there is a general confusion regarding the difference between static and dynamic efficiency. Also, there is no unanimously accepted holistic definition of dynamic efficiency. For the correct application of competition law it is, therefore, essential that competition law practitioners, both lawyers and economists, are able to correctly identify dynamic efficiency. This paper, after analysing several definitions of dynamic efficiency, categorizes the definitions into four approaches and develops a conceptual framework. After ascertaining the limitations of each approach, a holistic definition is suggested.
Research Papers
The Case of Google 'Snippets': An IP Wrong that Competition Law Cannot Fix (Max Planck Institute for Innovation & Competition Research Paper, No. 20-13), 2020, 32 pp. (together with Jessica C. Lai). DOI
Digitization of the news industry has increasingly stressed the revenue generation of publishers. While there is unanimity on the need for policy intervention to ensure the viability of publishers in the digitized world, choosing the correct policy tool is critical. With the objective of ensuring adequate and equitable incentives to publishers, the EU created neighboring rights in 'snippets', expecting information society service providers to seek licenses from publishers against monetary remuneration for using their works. Contrary to the expectation, however, Google, the dominant search engine, refused to use 'snippets' unless provided for free. This brought claims of abuse of dominance against Google. This paper breaks this scenario into two parts: it first shows, by referring to the design rights in spare parts debate in the EU, that the creation of neighboring rights in 'snippets' was unjustified in the absence of any market failure triggered by free-riding; subsequently, by analyzing the contrary stances of the German and the French competition authorities, it shows the limited ability of competition law to hold Google's behavior illegal. Thus, the paper shows that the choice of policy tool to incentivize publishers by creating a new IP right was flawed.
Lectures
07/17/19
Competition Law in Emerging Markets
Hochschule für Politik (University for Politics)
Location: Munich