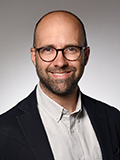 Seth Ericsson
MIPLC
Program Director

+49 89 24246-5348
seth.ericsson(at)miplc.de


Areas of Interest:
International, U.S. and European Copyright Law; International, European and U.S. Trademark Law; Law of Unfair Competition
Academic Résumé
Seth Ericsson obtained his law degree (J.D.) at the University of Minnesota Law School and completed an LL.M. in Media Law at the Johannes Gutenberg University in Mainz, Germany. Seth served as Program Director at the Munich Intellectual Property Law Center (MIPLC) from 2009 through 2013. He has been Research Fellow at MPI since January 2009. He is a member of the MIPLC LL.M. faculty. His current research focus involves issues of copyright with a particular emphasis on digital content distribution.
Publications
Contributions to Collected Editions, Commentaries, Handbooks and Encyclopaedias
The Commodification of Internet Intermediary Safe Harbors: Avoiding Premature Harmonization Around a Suboptimal Standard, in: Hanns Ullrich et al. (ed.), TRIPS plus 20 - From Trade Rules to Market Principles (MPI Studies on Intellectual Property and Competition Law, 25), Springer, Heidelberg; Berlin 2016, 245 - 277. DOI
Twenty years after the initial wave of national and international activity outlining the role of copyright within the world's first digital communications policy, the contours of a few fundamental policy principles at the intersection of copyright law and Internet regulation have begun to take shape. This paper focusses its attention on the continuing development of one such principle: The premise that legislatively mandated limitations on internet intermediary liability with regard to third party acts of copyright infringement (so-called safe harbors) are required to promote investment and innovation in Internet-related infrastructure and technology in order to achieve the goal of a robust public information environment. In the early days of the Internet, internet intermediaries argued that without certain limitations on their liability, little-to-no investment in the nascent information infrastructure would occur, i.e. there would be no market creation. Rightholders consistently countered this contention by arguing that, in the absence of adequate protection, they would not place their works online, i.e. there would be no goods on the market. Safe harbors were seen as a mechanism for ensuring right holder safety in the online environment without discouraging rapid market creation or hindering the democratic potential of the Internet. For the initial phase of the digital era, this compromise worked rather well. This paper demonstrates that, while consensus may be found regarding the basic premise of this precept and perhaps even with regard to specific aspects of its implementation, there is certainly nothing approaching universal understanding on how to best effectuate the policy goal. The reasons for this disagreement are manifold and rather comprehensible. The rapidly evolving technological landscape, the differing national and regional approaches to the regulation of the Internet, and the diverse legal and cultural environments all combine to make arrival at a globally appropriate safe harbor regime very challenging. Recognizing the obstacles to harmonization in this field is particularly relevant considering the ongoing attempts of the US to convince its trade partners to adopt a safe harbor framework largely equivalent to, and in certain respects likely narrower than, that which is laid out in the Digital Millennium Copyright Act (DMCA-plus). This paper argues that while harmonization may seem attractive given the international nature and overall importance of the Internet, standardization based upon an intricate and outdated internet safe harbor regime originally tailored to fit the needs of US industry is suboptimally configured for the digital communications policy requirements of the entire world.
Ambush Marketing: Examining the Development of an Event Organizer Right of Association (December 8, 2011), in: Na Ri Lee et al. (ed.), Intellectual Property, Unfair Competition and Publicity - Convergences and Development (European Intellectual Property Institutes Network series), Edward Elgar, Cheltenham, UK; Northampton, MA 2014, 165 - 188.
Auch als: Max Planck Institute for Intellectual Property & Competition Law Research Paper No. 11-19
This article analyses the potential impact of mega-event organizer (MEOs) efforts to combat advertising practices commonly lumped together and referred to as 'ambush marketing.' In particular, the article examines the MEO lobbying efforts to expand national trademark and unfair competition systems to include an event organizer right of association. In order to present ambush marketing as an advertising tool, Section 2 begins by giving examples of ambush marketing methods, i.e. competitive marketing techniques regularly employed by nonsponsor businesses around mega-events. Section 2 then goes on to define ambush marketing in light of these selected examples, existing law and an event organizer right of association. Section 3 introduces approaches MEOs have developed and implemented to reduce the avenues open to, and supposed detrimental effects of, ambush marketing in the absence of an event organizer right of association. A review of these strategies helps to contextualize the perceived need to expand legal systems to include an event organizer right of association. Section 4 provides a survey of the sui generis protection regimes a growing number of countries have enacted so as to shield MEOs and their corporate sponsors from the alleged ill-effects of ambush marketing. Section 5 concludes by critiquing the introduction of such laws from both a legal and a policy perspective. It is argued that the danger at play here is not so-called ambush marketing; instead, the real threat is posed by the MEO frontal attack on competitive advertising practices.
Journal Articles
The Recorded Music Industry and the Emergence of Online Music Distribution: Innovation in the Absence of Copyright (Reform), The George Washington law review 79, 6 (2011), 1783 - 1812.
Lectures
14.06.12
Educating IP Specialists: An International Approach
Intellectual Property Human Capital Development Conference
Location: Hongik University, Seoul
---
13.06.12
Special Lecture: Global Battle over Intellectual Property Rights, Current Status of Apple v. Samsung Litigation in Germany
Hongik University Graduate School
Location: Hongik University, Seoul
Courses
June 2012
Media Law
Location: MIPLC, München
---
08.03.12 - 09.03.12
Introduction to the Economic Aspects of Intellectual Property Rights
Double Degree Programme in Intellectual Property Law, Ss. Cyril and Methodius University (Iustinianus Primus Law Faculty) and the University of Strasbourg (Centre for International Intellectual Property Studies)
Location: Skopje
---
06.03.12 - 07.03.12
Introduction to the Economic Aspects of Intellectual Property Rights
Faculty of Law
Location: University of Belgrade