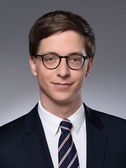 Jörg Hoffmann
Doctoral Student and Junior Research Fellow
Intellectual Property and Competition Law

+49 89 24246-594
joerg.hoffmann(at)ip.mpg.de


Areas of Interest:
Data Law, Antitrust Law, Intellectual Property Law, Law and Economics, Regulation of the Data Driven Economy (Data Access, Data Governance, AI and FinTech)
Academic Resumé
Since 2018
Max Planck Institute for Innovation and Competition
2017
Second State Exam in Law (equivalent to bar exam), Hamburg, Germany
2014 - 2017
Legal Clerkship in the Jurisdiction of the Court of Appeal Hamburg, inter alia at European Commission, Brussels, (DG GROWTH) Permanent Mission of the Federal Republik of Germany to the United Nations, New York, , Senate Chancellery (International Affairs) and international law firms, Hamburg, Germany (Antitrust Law)
2014
First State Exam in Law, Munich, Germany
Study of Laws
Ludwig-Maximilians-Universität München (LMU) and UCL (London)
Work Experience
2017
International law firm, Frankfurt (EU Regulatory, FinTech, Competition)
2014 - 2015
Research Associate, International law firms, Universidad Autonoma Metropolitana, Mexico City
Publications
Contributions to Collected Editions, Commentaries, Handbooks and Encyclopaedias
Safeguarding Innovation through Data Governance Regulation – The Case of Digital Payment Services, in: Bundesministerium der Justiz und Verbraucherschutz, Max Planck Institute for Innovation and Competition, Max Planck Society (eds.), Data Access, Consumer Interests and Public Welfare, Nomos, Baden-Baden 2021, 343 - 400. DOI
Intellectual Property Justification for Artificial Intelligence, in: Jyh-An Lee, Reto M. Hilty, Kung-Chung Liu (eds.), Artificial Intelligence and Intellectual Property, Oxford University Press, Oxford 2021 (together with Reto M. Hilty, Stefan Scheuerer).
Journal Articles
Position Statement of the Max Planck Institute for Innovation and Competition of 2 May 2023 on the Implementation of the Digital Markets Act (DMA), GRUR Int 72, 9 (2023), 864 - 875 (together with Josef Drexl et al.).
Can Data Exploitation Be Properly Addressed by Competition Law? A Note of Caution, Concurrences 1 (2021), 75 - 82.
Research Papers
Setting the Right Innovation Incentives for Europe's Green Transition (Max Planck Institute for Innovation & Competition Research Paper, No. 23-13), 2023, 31 pp. DOI
Climate change poses a significant challenge to humanity. Building cleantech innovation systems and spurring innovation in Europe is critical to the revitalisation of the European economy to create long-term sustainable prosperity. Providing incentives for innovation is one of the key priorities of the EU climate policy. Yet, it is crucial to determine, which legal measures provide the right incentives for developing climate change technology. Market-based incentive mechanisms enabled by patent law and maintained by competition law may foster innovation. Does this hold true for a required green transition of the European economy currently proclaimed under the EU climate policy? What are the drawbacks and the limits? What guideposts should the EU follow in order to meet its climate goals? This contribution sheds light on those questions. It argues that the reasons that hold back patent and competition laws' potential in accelerating "green" innovation are rather old wine in new bottles. The multiple crises do not require a specific redesign of patent and competition law and its dogmatic foundations in order to attain the European climate goals. One needs action and must address the still existing legal issues. This contribution outlines specific recommendations in this regard.
Position Statement of the Max Planck Institute for Innovation and Competition of 2 May 2023 on the Implementation of the Digital Markets Act (DMA) (Max Planck Institute for Innovation & Competition Research Paper, No. 23-11), 2023, 33 pp. (together with Josef Drexl et al.).
Regulation (EU) 2022/1925 of the European Parliament and of the Council of 14 September 2022 on contestable and fair markets in the digital sector (Digital Markets Act; DMA) entered into force on 1 November 2022 and applies from 2 May 2023. The DMA is a novel type of regulation laying down harmonised rules for core platform services provided or offered by gatekeepers to business users and end users established or located in the Union. It pursues the objective of achieving fairness and contestability in the digital sector across the Union where gatekeepers are present.
In its position statement of 2 May 2023, the Institute acknowledges that uniform rules throughout the European Union and centralised enforcement are necessary to prevent internal market fragmentation and welcomes the first Commission Implementing Regulation for the DMA of 14 April 2023. However, it remains concerned by the DMA's unique institutional design and its interaction with other laws as outlined under Articles 1(5), 1(6) and 1(7).
In particular, the Institute raises awareness about the possible overly broad blocking effects of the DMA on national rules, which may have the unintended consequences of privileging gatekeepers by jeopardizing future national legislative initiatives. This ultimately obstructs the achievement of contestability and fairness in digital markets. A complementary application of the competition rules and effective enforcement of the DMA is, against this backdrop, crucial. Yet there is uncertainty over administrative enforcement mechanisms, and it is unclear what role private enforcement plays in the current legal design of the DMA. The position statement identifies and examines challenges in the implementation of the DMA, along with recommendations for overcoming them.
Gatekeeper's Potential Privilege – the Need to Limit DMA Centralisation (Max Planck Institute for Innovation & Competition Research Paper, No. 23-01), 2023, 32 pp. (together with Liza Herrmann, Lukas Kestler). DOI
The Digital Markets Act (DMA) aims at promoting contestable and fair markets for core platform services by setting out obligations for designated gatekeepers. As the DMA does not clearly define these two objectives, it comes into conflict with national legislation with overlapping objectives. This may include unfair competition laws and sector-specific regulation. Art. 1(5) DMA addresses this conflict by stipulating that Member States may not impose further obligations on gatekeepers for the purpose of ensuring contestable and fair markets. The effect this has is that national provisions vis-à-vis gatekeepers may not be applicable anymore and competences are centralised on the European level more broadly than potentially envisaged by the European legislature. This centralisation of competences runs the risk of inadvertently privileging gatekeepers by blocking national laws that are, however, still applicable to SMEs and other firms competing with gatekeepers. This paper suggests solutions to mitigate such risk.
Demystifying the Role of Data Interoperability in the Access and Sharing Debate (Max Planck Institute for Innovation & Competition Research Paper, No. 20-16), 2020, 37 pp. (together with Begoña Gonzalez Otero).
In the current data access and sharing debate, data interoperability is widely proclaimed as being key for efficiently reaping the economic welfare enhancing effects of further data re-use. Although, we agree, we found that the current law and policy framework pertaining data interoperability was missing a groundworks analysis. Without a clear understanding of the notions of interoperability, the role of data standards and application programming interfaces (APIs) to achieve this ambition, and the IP and trade secrets protection potentially hindering it, any regulatory analysis within the data access discussion will be incomplete. Any attempt at untangling the role of data interoperability in the access and sharing regimes requires a thorough understanding of the underlying technology and a common understanding of the different notions of data interoperability. The paper firstly explains the technical complexity of interoperability and its enablers, namely data standards and application programming interfaces. It elaborates on the reasons data interoperability counts with different levels and puts emphasis on the fact that data interoperability is indirectly tangled to the data access right. Since data interoperability may be part of the legal obligations correlating to the access right, the scope of interoperability is and has already been subject to courts' interpretation. While this may give some manoeuvre for balanced decision-making, it may not guarantee the ambition of efficient re-usability of data. This is why data governance market regulation under a public law approach is becoming more favourable. Yet, and this is elaborated in a second step, the paper builds on the assumption that interoperability should not become another policy on its own. This is followed by a competition economics assessment, taking into account that data interoperability is always a matter of degree and a lack of data interoperability does not necessarily lead to a market foreclosure of competitors and to causing harm to consumer welfare. Additionally, parts of application programming interfaces (APIs) may be protected under IP rights and trade secrets, which might conflict with data access rights. Instead of further solving the conflicting regimes within the respective legal regimes of the exclusive rights the paper concludes by suggesting that (sector-specific) data governance solutions should deal with this issue and align the different interests implied. This may provide for better, practical and well-balanced solutions instead of impractical and dysfunctional exceptions and limitations within the IP and trade secrets regimes.
Technical Aspects of Artificial Intelligence: An Understanding from an Intellectual Property Law Perspective (Max Planck Institute for Innovation & Competition Research Paper, No. 19-13), 2019, 15 pp. (together with Josef Drexl et al.).
The present Q&A paper aims at providing an overview of artificial intelligence with a special focus on machine learning as a currently predominant subfield thereof. Machine learning-based applications have been discussed intensely in legal scholarship, including in the field of intellectual property law, while many technical aspects remain ambiguous and often cause confusion.
This text was drafted by the Research Group on the Regulation of the Digital Economy of the Max Planck Institute for Innovation and Competition in the pursuit of understanding the fundamental characteristics of artificial intelligence, and machine learning in particular, that could potentially have an impact on intellectual property law. As a background paper, it provides the technological basis for the Group's ongoing research relating thereto. The current version summarises insights gained from background literature research, interviews with practitioners and a workshop conducted in June 2019 in which experts in the field of artificial intelligence participated.
EU-Merger Control in Big Data-Related Mergers (Max Planck Institute for Innovation & Competition Research Paper, No. 19-05), 2019, 74 pp. (together with Germán Oscar Johannsen).
The main focus of the Commission's last decade decisional practice in big data mergers has been on identifying possible harming effects of the control over exclusive information (absolute foreclosure scenario). Thereby it has centred its analysis on the assessment of the overall availability of data post-merger and thus mostly found no concerns due to the ubiquity and non-rivalrous nature of data. However these considerations were too short-sighted as additional competition concerns may arise when the accumulation of large piles of data from a huge multitude of sources by digital conglomerates leads to such an advantage that competitors will not be able to match anymore, increasing the likelihood of further anti-competitive strategies (relative foreclosure scenario). Accordingly, the paper firstly addresses the need for information centric reference points for the analysis of data induced significant impediments of competition (SIEC). It then analyses the approach taken by the Commission so far, identifies the shortcomings and establishes a theory of harm that takes the efficiency offense doctrine and the financial power and portfolio effect theories of harm as a reference point and relate it to a relative foreclosure strategy of the merged group that is specific to data induced SIEC. The distinction of these two foreclosure scenario levels serves as the basis for further discussion on adequate remedies to tackle the two types of data-induced harming effects. The paper then indulges into the intersection of competition law and data protection law and analyses the potential need for a distinction between personal and non-personal data due to the fact that data protection law might be considered a normative factual remedy that renders personal data specific competition concerns post-merger unnecessary. This is then followed by a parallel analysis related to ex-ante data access regimes being normative factual remedies, e.g. the access to account rule under the Payment Services Directive 2 (PSD2). It then stresses the need for considering formal elements such as conditional remedies that tackle potential issues of a lack of foreseeability due to high market dynamics before examining the efficiency and feasibility of a data sharing commitment for both absolute and relative foreclosure scenarios. As essential facility considerations cannot be analogously applied in relative foreclosure cases we take recourse to criteria that were established for measuring conglomerate power structures. Accordingly in relative foreclosure scenario cases we establish two requirements that need to be fulfilled by the undertaking seeking access to data in order to confine a potential erga omnes right and make data sharing legally obtainable.
Digital Markets, Mobile Payments Systems and Development – Competition Policy Implications in Developing Countries in Light of the EU Experience (Max Planck Institute for Innovation & Competition Research Paper, No. 18-13), 2018, 43 pp. (together with Mor Bakhoum, Francisco Beneke).
The digitization of economic activity has important socio-economic development implications and at the same time creates challenges for antitrust analysis. These implications and challenges have been met differently in jurisdictions around the world. In this paper we analyze the different experiences in the EU and developing countries, focusing on mobile payments. We find that this market exhibits special characteristics that need to be taken into account in the analysis of competition conditions. First, it is enabled by mobile telecommunications infrastructure and is offered by network operators, which causes competition in both markets to be closely linked. Second, there are factors, such as the lack of interoperability and geographical reach, that make network effects in this industry different from those present in other platforms. Third, since mobile payments in developing countries serve a niche—the population underserved by mainstream banking—the definition of the relevant market is not straightforward. We propose the criteria to be applied when making such definition. Finally, since mobile payments have associated financial services, there is an interaction between competition and financial stability that needs to be considered.
Opinions
Position Statement of the Max Planck Institute for Innovation and Competition of 25 May 2022 on the Commission's Proposal of 23 February 2022 for a Regulation on Harmonised Rules on Fair Access to and Use of Data (Data Act), 2022, 124 pp. (together with Josef Drexl et al.).
On 23 February 2022, the European Commission issued a Proposal for a Regulation on harmonised rules on fair access to and use of data (Data Act). The overarching objective of the Proposal is to 'ensure fairness in the digital environment, stimulate a competitive data market, open opportunities for data-driven innovation and make data available for all'. The Institute hereby presents its Position Statement that features a comprehensive analysis of whether and to what extent the proposed rules might reach the envisaged objectives. It comments on all parts of the Proposal, including the new IoT data access and use right. Finally, the Institute offers a set of recommendations as to how the proposed provisions should be amended in the legislative process to align them better with the objectives of the Data Act.
Artificial Intelligence and Intellectual Property Law - Position Statement of the Max Planck Institute for Innovation and Competition of 9 April 2021 on the Current Debate, 2021, 26 pp. (together with Josef Drexl et al.).
This Position Statement presents a broad overview of issues arising at the intersection of AI and IP law based on the work of the Max Planck Institute for Innovation and Competition research group on Regulation of the Digital Economy. While the analysis is approached mainly from a perspective de lege lata, it also identifies questions which require further reflection de lege ferenda supported by in-depth interdisciplinary research. The scope is confined to substantive European IP law, in particular, as regards copyright, patents, designs, databases and trade secrets. Specific AI-related issues are mapped out around the core questions of IP law, namely, the eligibility for protection under the respective IP regimes, allocation of rights and the scope of protection. The structure of the analysis reflects three key components of AI: inputs required for the development of AI systems, AI as a process and the output of AI applications. Overall, it is emphasised that, while recent legal and policy discussions have mostly focused on AI-aided and AI-generated output, a more holistic view that accounts for the role of IP law across the AI innovation cycle is indispensable.
Comments of the Max Planck Institute for Innovation and Competition of 11 February 2020 on the Draft Issues Paper of the World Intellectual Property Organization on Intellectual Property Policy and Artificial Intelligence, 2020, 9 pp. (together with Josef Drexl et al.).
Further Publications, Press Articles, Interviews
How to Implement the DMA in Order to Attain Its Goals of Contestability and Fair Digital Markets for Core Platform Services, Oxford Business Law Blog 2023.
German Legislators Dismiss E-Money Concerns Over 4th AMLD - Interview, Payments Compliance, Compliance Online 2017 24.05.2017.
Memberships
Presentations
Selected Presentations/Lectures:
16.06.2021
Data Access, AI and the Legal Protection of Data in the EU
Open Data and Innovation International Summit
Location: Tsinghua University, Beijing (online)
---
23.03.2021
Legal, Economic, and Technical Perspectives on Interoperability or How to Gain Normative Strength via Technical Determination by Law
MIPLC Lecture Series
Video
Location: München (online)
---
02.12.2020
Data Access and Data Interoperability - A Comparative Analysis of Existing Laws and Policy Approaches in the EU
Joint Research Center, European Commission
Location: Sevilla (online)
---
26.06.2020
Demistifying Data Interoperability in the Current Data Sharing and Access Debate
ASCOLA - Annual Conference
Location: Porto, (online)
---
13.12.2019
Sektor-spezifische Zugangsregime von Wettbewerbern
German Ministry of Justice - Consumer Protection Days 2019
Location: Berlin
---
28.11.2019
AI and IP- Intellectual Property Justification in the Realm of AI
CUHK, SMU Singapore, MPI for Innovation and Competition - Conference on AI and IP
Location: Singapore
---
27.06.2019
Big Data and Merger Control - an Appraisal of Data Induced Theories of Harm and Remedies
Univsersité Aix/Marseille - 14th Annual Conference of ASCOLA
Location: Aix en Provence
---
07.2018
Digitization of Payment Systems and its Antitrust Law Implications
MPI Innovation and Competition - Brown Bag Seminar
Location: Munich
---
21.06.2018
Digital Markets, Mobile Payments Systems and Development - Competition Policy Implications in Developing Countries in Light of the EU-Experience
NYU Law School - 13th Annual Conference of ASCOLA- The Effects of Digitization, Globalization and Nationalism on Competition Law
Location: New York City