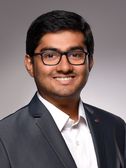 Mainak Ghosh, M.Sc.
Doctoral Student and Junior Research Fellow
Innovation and Entrepreneurship Research

+49 89 24246-574
mainak.ghosh(at)ip.mpg.de


Areas of Interest:
Machine Learning, Natural Language Processing, Sentiment Analysis
Academic Résumé
Since 03/2020
Junior Research Fellow and Doctoral Candidate, Max Planck Institute for Innovation and Competition (Innovation and Entrepreneurship Research)
10/2017 - 11/2019
Master of Science (M.Sc.) in Data Engineering & Analytics, Technical University of Munich (TUM); Master Thesis: "Multilingual Opinion Mining on Social Media Comments Using Unsupervised Neural Clustering Methods"
11/2017 - 02/2018
Student Research Assistant, Max Planck Institute for Social Law and Social Policy, Munich
05/2013 - 07/2013
Research Intern, Indian Statistical Institute, Kolkata, India
06/2012 - 07/2012
Summer Intern, Globsyn Business School, Kolkata, India
2010 - 2014
Bachelor of Engineering (B.E.) in Computer Science & Technology, Indian Institute of Engineering Science & Technology, Shibpur, India
Work Experience
03/2018 - 03/2020
Working Student, IDS GmbH – Analysis and Reporting Services (IDS), Munich
08/2014 - 09/2017
Software Engineer, Acclaris Business Solutions Pvt Ltd, Kolkata, India
Academic Prizes and Honors
2013
Cognizant Certified Student (CCS), IT Foundation Skills
2009
Award, Mathematical Competence Test, Association for Improvement of Mathematics Teaching (AIMT), Kolkata, India
2008
Certificate of Merit in Physical Science & Mechanics
Publications
Further Publications, Press Articles, Interviews
Hagerer, Gerhard; Moeed, Abdul; Dugar, Sumit; Gupta, Sarthak; Ghosh, Mainak; Danner, Hannah; Mitevski, Oliver; Nawroth, Andreas; Groh, Georg (2020). An Evaluation of Progressive Neural Networks for Transfer Learning in Natural Language Processing, in: Proceedings of the 12th Conference on Language Resources and Evaluation (LREC 2020), Marseille, 1376-1381.
A major challenge in modern neural networks is the utilization of previous knowledge for new tasks in an effective manner, otherwise known as transfer learning. Fine-tuning, the most widely used method for achieving this, suffers from catastrophic forgetting. The problem is often exacerbated in natural language processing (NLP). In this work, we assess progressive neural networks (PNNs) as an alternative to fine-tuning. The evaluation is based on common NLP tasks such as sequence labeling and text classification. By gauging PNNs across a range of architectures, datasets, and tasks, we observe improvements over the baselines throughout all experiments.

Event: 12th Language Resources and Evaluation Conference, Marseille, 2020-05-11
Discussion Papers
Erhardt, Sebastian; Ghosh, Mainak; Buunk, Erik; Rose, Michael; Harhoff, Dietmar (2022). Logic Mill - A Knowledge Navigation System, arXiv preprint 2301.00200.
Logic Mill is a scalable and openly accessible software system that identifies semantically similar documents within either one domain-specific corpus or multi-domain corpora. It uses advanced Natural Language Processing (NLP) techniques to generate numerical representations of documents. Currently it leverages a large pre-trained language model to generate these document representations. The system focuses on scientific publications and patent documents and contains more than 200 million documents. It is easily accessible via a simple Application Programming Interface (API) or via a web interface. Moreover, it is continuously being updated and can be extended to text corpora from other domains. We see this system as a general-purpose tool for future research applications in the social sciences and other domains.
Presentations
10.09.2020
Knowledge Mining, Digitalization, Machine Learning
Research Seminar
Location: online (Munich)