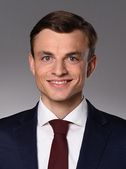 Klaus Keller, M.A.
Doctoral Student and Junior Research Fellow
Innovation and Entrepreneurship Research

+49 89 24246-580
klaus.keller(at)ip.mpg.de


Areas of Interest:
International Trade, Labor Economics, Applied Econometrics, Automation and Artificial Intelligence
Academic Résumé
Since 07/2019
Junior Research Fellow and Doctoral Candidate at Max Planck Institute for Innovation and Competition (Innovation and Entrepreneurship Research)
03/2019 - 07/2019
Junior Research Officer, International Labour Organisation (ILO), Geneva, Switzerland
09/2018 - 03/2019
Research Internship, International Labour Organisation (ILO), Geneva, Switzerland
06/2018 - 09/2018
Research Internship, World Trade Organization (WTO), Geneva, Switzerland
01/2018 - 02/2018
Research Internship, Kiel Institute for the World Economy, Kiel
09/2017 - 12/2017
Swiss Mobility Exchange, University of St. Gallen, St. Gallen, Switzerland
09/2016 - 09/2018
Master of Arts (M.A.) in Internatonal Economics, Graduate Institute of International and Development Studies, Geneva, Switzerland
06/2016 - 09/2016
Traineeship, Delegation of the European Union to Switzerland and the Principality of Liechtenstein, Bern, Switzerland
02/2016 - 04/2016
Internship, Permanent Mission of the Sovereign Military Order of St.John of Jerusalem, of Rhodes and of Malta to the United Nations, Geneva, Switzerland
09/2014 - 05/2015
Exchange Scholarship, Faculty of Art and Sciences, American University of Beirut, Lebanon
09/2012 - 06/2017
Bachelor of Arts (B.A.) in International Relations, Université de Genève, Geneva, Switzerland
Honors, Scholarships, Academic Prizes
09/2018 - 03/2019
Carlo-Schmid-Program, Deutscher Akademischer Austauschdienst (DAAD)
2017 - 2018
Cusanuswerk Scholarship
2011
Schaeffler-Prize for the best scientific baccalaureate
Publications
Further Publications, Press Articles, Interviews
Keller, Klaus; Scheuerer, Stefan; Wiedemann, Klaus (2021). 'New Directions in the European Union's Innovation Policy?' Report on the Conference of the Max Planck Institute for Innovation and Competition in Collaboration with the MPI Alumni Association in Munich, 9 July 2021, GRUR International - Journal of European and International IP Law, 70 (11), 1074-1078. DOI
Discussion Papers
Chugunova, Marina; Juanmarti, Arnau; Keller, Klaus; Samila, Sampsa (2021). Robots, China and Polls: Structural Shocks and Political Participation in the US, Max Planck Institute for Innovation & Competition Research Paper, No. 21-22. DOI
What is the effect of labour market adjustment to automation on political participation? We study the consequences of the introduction of industrial robots across US commuting zones on voter turnout in US counties between 2000 and 2016. We first replicate prior results showing negative effects of exposure to robots on employment and household incomes at local labour markets and then show that an increase in the exposure by one robot per thousand workers leads to a 0.64 percentage point lower voter turnout at US presidential elections. We contrast this result with the effect of the exposure to Chinese imports, for which we do not find a negative effect on political participation. Using individual level data we document that people at risk of automation are 15% percent more likely to abstain. To understand why the effect is not uniform, we conduct an online survey experiment. We find that the nature of the shock matters beyond the mere economic consequences. While the government is seen as instrumental in addressing the trade shock, it is perceived less effective in the case of automation. Our finding highlight an important behavioral aspect of the political economy of technological change.
Presentations and Lectures
02.11.2021
Robotizing to Compete – Evidence from the EU Enlargement
LMU International Trade Retreat
Location: Munich
---
18.10.2021
Robots, China and Polls – Structural Shocks and Political Participation in the US
DRUID Conference 2021
Location: Copenhagen, Denmark
---
13.10.2021
Robots, China and Polls – Structural Shocks and Political Participation in the US
9th Retreat of CRC TRR 190, Collaborative Research Center Rationality and Competition
Location: Ohlstadt
---
06.10.2021
Knowledge Spillovers and Corporate Investment in Scientific Research
by Ashish Arora, Sharon Belenzon, and Lia Sheer
Harhoff-Schnitzer-Waldinger Reading Seminar
Location: Berg bei Starnberg
---
29.09.2021
Automation and Foreign Competition – Evidence from Portuguese Firms
Research Seminar
Location: Feldkirchen-Westerham
---
19.04.2021
Automation and Foreign Competition – Evidence from Portuguese Firms
Munich Innovation Seminar
Location: online
---
24.03.2021
Automation and Foreign Competition – Evidence from Portuguese Firms
Research Seminar
Location: online
---
10.09.2020
Automation and Public Health – Evidence From US Local Labor Markets
Research Seminar
Location: online
---
04.03.2020
Automation and Competition – Theory and Empirics
Research Seminar
Location: Schneefernerhaus/Zugspitze
---
19.02.2020
Growing Apart: Tradable Services and the Fragmentation of the US Economy, by Fabian Eckert
Harhoff-Schnitzer-Waldinger Reading Seminar
Location: Frauenchiemsee
---
27.11.2019
Provable Transactions – Exploring the Boundaries of Trust of Smart Contracts on Blockchain
Discussant, TIME Seminar, TU Munich
Location: Munich